5 foods made for meal prep
Find the grocery store go-tos that make meal planning more manageable.
Variety may be the spice of life, but when it comes to your grocery list, it's all about strategic staples. Keeping your pantry and fridge stocked with a healthy collection of core ingredients makes everything much easier––from shopping to food prep. Having a dependable and versatile foundation can also spark kitchen creativity with new takes on flexible foods.
Consider these five food groupings the next time you're at the supermarket. Use them as the building blocks for family dinners, lunch box packing, and quick snacks on the go. You'll be surprised how many unique meals you can make and how much simpler meal prep becomes.
Chicken breasts
A simple pack of chicken breast or boneless chicken thighs are our MVP (as in, most valuable protein). A quick bake or sauté in EVOO with salt and pepper, then transfer to an airtight container. These tasty gems can store up to four days in the fridge.
Throughout the week, dice your chicken and toss into salads and pastas; serve it in strips over rice and veggies with a dash of soy sauce and hot sauce; or finely cube and toss it into an omelet in the morning. For the kiddos, chop and combine with mayo, celery, onion, and apples for an easy chicken salad sandwich.
Bulk grains
While it's great to skip empty carbs, there are some grains that pack a healthy dose of antioxidants like brown rice, quinoa, and steel cut oats. These heart-healthy dry grains deserve a special place on your plate and in your pantry. The best part, if stored in a quality sealed airtight canister, they stay fresh and vitamin-rich for months.

Make Sunday your grain prep day and cook a few cups of the grains. Store them in airtight containers and refrigerate immediately. Keep transfer time to under an hour to avoid bacteria growth. Cooked grains last three to four days, and they're simple to reheat on the stovetop or in microwave—just add a little water to liven them up. Oatmeal with fruit is a breakfast lifesaver on busy mornings. The other grains can be the base to a bowl meal, bulk up a spinach salad, or become a hearty side for salmon.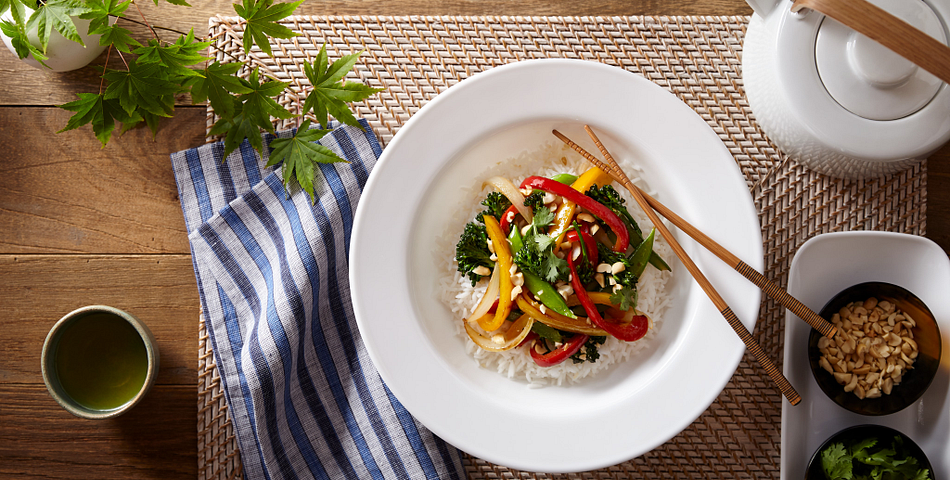 Dried fruits, nuts, and seeds
In the supermarket, sometimes you're a hunter and sometimes you're a gatherer. A little faux foraging goes a long way when it comes to weekday meal prep. Invest in some easy-pour spouted containers and sprinkle nuts, seeds, and dried fruit on anything that needs a burst of flavor, texture, and nutrition—nuts and seeds are rich in vitamins, minerals, omega-3s, and fiber.
Top a salad with dried cranberries and pepitas for unexpected sweetness and crunch. Jazz up a yogurt parfait with dried cherries, almonds, and chia seeds. Add peanuts to stir-frys and pine nuts to grains like couscous. For a lunch box or work bag winner, combine cashews, brazil nuts, dried mango, coconut flakes, and banana chips for a tropical homemade trail mix that beats the store-bought version any day.
Easy-prep produce
Aside from the vitamin value, the best trait of veggies is how simple they are to prepare, store, and use at every meal. "Roasted Vegetables" sounds high maintenance, but it's really just a quick chop, EVOO and seasoning toss, then throw the veggies on a baking sheet at 425-degree oven for 30 to 45 minutes and you're finished! A great mix is broccoli, onion, bell pepper, butternut squash, zucchini. You can swap out veggies as the seasons change so the roast evolves with you.
Want an even easier option? Cut your veggies and store them raw in separate containers. Add them to a healthy egg white scramble at breakfast. Toss them in a salad for a desk lunch. For picky kids, dredge veggies in hummus or a ramekin of ranch dressing––it still counts. You can also steam them for a quick dinner of chicken and brown rice that you've also prepped for the week. That's how easily these core ingredients can work together.
Eggs
Eggs are easy, versatile, and perfect for advance prep. Boil a half-dozen at the beginning of the week, keep them in the shell and store in an airtight container for up to a week. After a quick peel, you're set for a protein-packed breakfast, a midday tuna nicoise, or tasty egg salad sandwiches.
Keep the remaining unboiled eggs close by for quick scrambles, breakfast burritos, or a fried egg which perfectly tops...pretty much everything.