Plate like a pro: an artful approach to any meal
Easy techniques to delight your dinner guests.
After you've planned the menu, prepped the ingredients, and cooked the meal, it all comes down to the presentation. Plating your food does not have to be ornate or complicated. Have fun and become an artist; the plate is your canvas and the food is your medium. Follow these simple steps to hear oohs and ahhs at your next dinner party.
Choose the right plate
When planning a menu, consider the dimensions of your dinnerware.
If the portions are large, you'll want to make sure everything fits without feeling crowded.
Petite servings? Scale down your dish so dinner doesn't look skimpy.
The same goes for dish depth—a wide-rimmed pasta bowl always works for spaghetti but might be too shallow for soup.
White dishes really put the spotlight on the food. You put the effort in to make the meal, so let's give it the stage it deserves. White dishes are a safe choice for almost all foods, especially brightly colored, seasonal produce. If your menu features beige foods like pasta and potatoes, pair these dishes with vibrant patterns and eye-catching designs.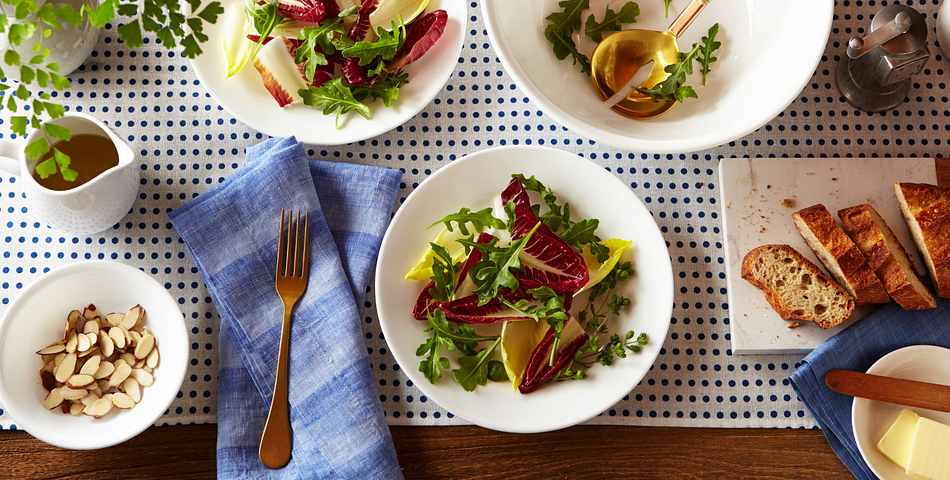 Watch the clock
The easiest way to remember how to arrange the plate and pick perfect portions is to use the clock face method. Imagine the plate is a clock—the protein sits on the lower half between 3 and 9, the starch or carb sits between 9 and 12, and the vegetable sits between 12 and 3. The configuration creates a natural focal point with the protein front and center.
Of course, this isn't a hard-and-fast rule. If the mood strikes to plate more artistically, follow your instincts. Just remember your flavors and be sure they mingle well together.
Don't be afraid to layer
Stacking the components of a dish is a great way to play with height and increase the complexity of flavors. Protein over starch is a tried-and-true method. Try placing chicken on a bed of rice or pork medallions over mashed potatoes. In general, softer components make for good bases, anchoring items that might otherwise slide around the plate. Alternating textures is important, too, so if your base layer is smooth, like a vegetable puree, add some crunch on top.
Layering is a fun way to experiment—salmon on a bed of mixed greens or crispy potatoes on top of a steak with asparagus spears laid across the top. When you're building a tower of flavor, the sky's the limit.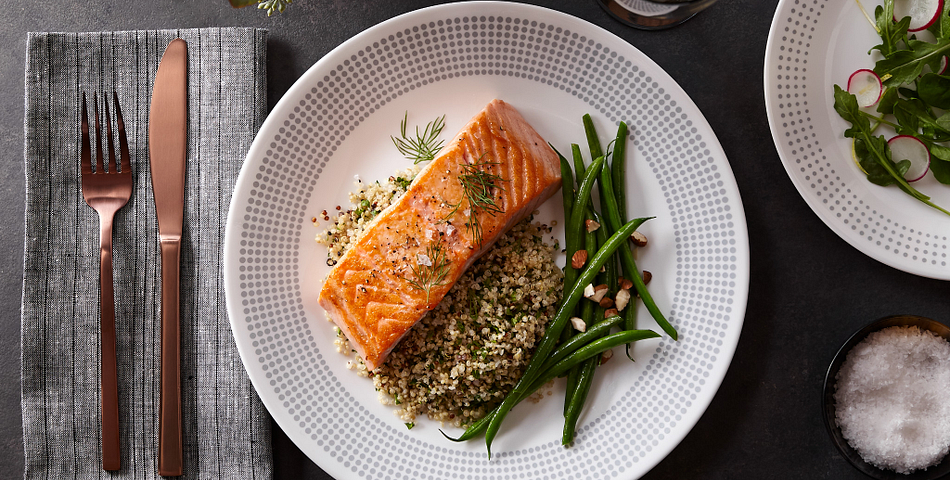 Finish with flair
A delicious meal positioned exquisitely on the perfect plate … what's left to consider? It all comes down to the details. It's the final touch that takes a meal from tasty to transcendent.
Garnishes should be edible and, ideally, should complement the flavors and colors on the plate. No need to spend hours carving flowers out of cherry tomatoes; simplicity goes a long way here. For fish dishes, you can't go wrong with a thin lemon wheel and a few sprigs of parsley. For meat and potatoes, a spiralized vegetable like radishes or zucchini adds a nice visual pop to the plate. If your dish includes a sauce, consider using a squeeze bottle to dot the margins for easy dipping that doesn't saturate or overwhelm.
A little decoration goes even further during a dessert course—consider a streak of chocolate sauce, a sifted dusting of powdered sugar, or a few mint leaves for a beautiful presentation that end the evening on a memorable note.