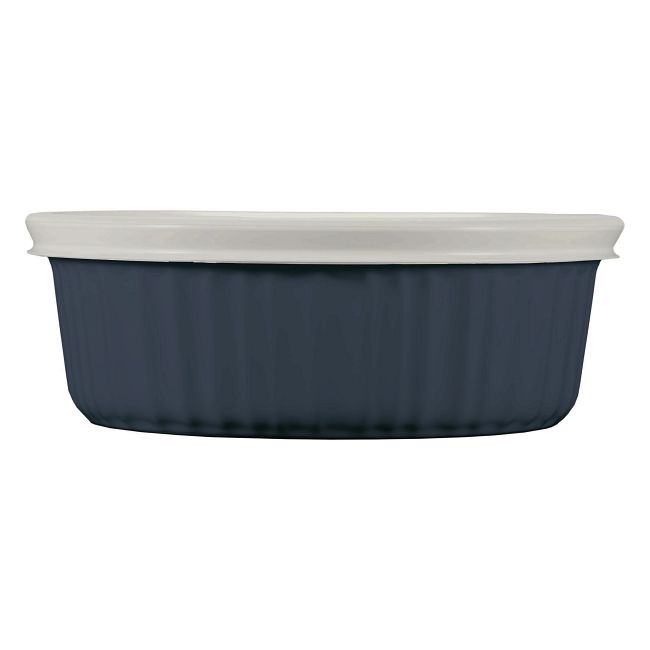 CorningWare® French Colors 24-ounce Baking Dish with Lid, Navy
A versatile round baking dish in an eye-catching contemporary color with plastic lid for storage.
Product Details
The iconic fluted bakeware you trust, in contemporary colors perfect for serving. This smaller-sized baking dish includes a plastic cover for storage. Made from durable stoneware, it heats evenly for perfect baking results. And this versatile baking dish goes from freezer to oven to table with ease.
Classic fluted design in a beautiful contemporary color
Durable stoneware heats evenly for perfect baking results
Versatile dish goes from freezer to oven to table beautifully
Dish resists stains and do not absorb food odors or flavors
Dish is dishwasher, freezer, microwave and preheated-oven safe
BPA-free plastic lids are top-rack dishwasher and microwave safe
1-year limited warranty on baking dish
2-year limited warranty on lid
Dimensions
6.5'' diameter x 2.75'' high
*All measurements are approximate.
SAFETY, USE AND CARE
Read and save these instructions for best results with your new CorningWare® stoneware.
These instructions apply to CorningWare® stoneware products, including Baking Dishes, Casseroles, Pie Plates, Ramekins, Serving Pieces and Meal Mug™ cups.
Note: for Visions® and CorningWare® Stovetop Cookware, refer to the Visions® and CorningWare® Stovetop Safety, Use and Care instructions.
** Warning **
All stoneware can break, but you can help prevent damage and personal injury by following these guidelines.
STONEWARE
When used near extreme heat, stoneware can break.
DO NOT use with:
Standard
Countertop
Other
Stovetop
Broiler
BBQ Grill
Microwave Browning Element
Stovetop Pressure Cooker
Toaster/Countertop Oven
Air Fryer
Slow Cooker/Crockpot
Rice Cooker
Grilling Appliance
Air Fryer function of Instant Pot® Pressure Cookers & Multicookers
Direct Heating Source
Open Flames
Camping Stove

When heated or cooled too rapidly, stoneware can break.
While cooking, DO NOT:
After cooking, DO NOT:
Use in oven unless pre-heated
Transfer directly from freezer to hot oven
Add liquid to hot stoneware
Use to microwave popcorn
Microwave while empty
Microwave a tiny amount of food
Use for foods with browning wrappers
Use to boil water
Use at temperatures over 500°F (260°C)
Place hot glassware in sink
Place hot glassware on a metal stove grate
Place hot glassware on a wet or cold surface
Handle hot glassware with a wet or cold cloth
Notes
The safest place for hot stoneware to cool is on a cooling rack, dry potholder or dry cloth.
If handled or cleaned improperly, stoneware can scratch or develop fine cracks, and can eventually break.
When handling, DO NOT:
When cleaning, DO NOT:
Bump against hard objects
Attempt to repair when cracked
Soak in water for an extended period of time
Use abrasive cleanser or abrasive scouring pads
Clean with hard objects that can damage the surface, such as metal
Notes
If stoneware or glass lid breaks, USE CARE when picking up sharp pieces to avoid cuts.
LIDS
For all lid types, follow Warnings above for Stoneware.
If lid includes a vent feature, be sure to open it heating food in the microwave.
Use
Your stoneware is designed for baking, serving and storing food.
| | | | | | |
| --- | --- | --- | --- | --- | --- |
| Can be used in: | Stoneware Baking Dish | Meal Mug™ | Serving Pieces | Plastic Cover | Glass Cover |
| Standard oven (preheated) | ✓ | ✓ | ✓ | No | ✓ |
| Standard convection oven (preheated) | ✓ | ✓ | ✓ | No | ✓ |
| Microwave | ✓ | If lid vented | ✓ | If vented | ✓ |
| Instant Pot® Pressure Cooker + Multicooker (see notes) | ✓ | No | No | No | No |
| Refrigerator | ✓ | ✓ | ✓ | ✓ | ✓ |
| Freezer | ✓ | ✓ | ✓ | ✓ | ✓ |
Notes
Always preheat standard oven and standard convection oven before inserting stoneware for cooking.
Always vent plastic lids on baking dishes and mugs when microwaving.
Handle hot stoneware and glass lids with a dry potholder or cloth.
Place stoneware on a placemat or hot pad to avoid scratching countertop and table surfaces.
For plastic covers, use care with tomato and acidic sauces since they can stain.
Instant Pot® Brand Pressure Cooker Notes (in addition to standard stoneware use and care instructions)
To see which size stoneware dish fits in specific Instant Pot® products, see list at www.corningware.com.
Always place the stoneware dish on the Instant Pot® steam rack. DO NOT place the dish directly on the inner pot surface.
Be careful and use a dry potholder or cloth when removing the hot stoneware and steam rack from the inner pot.
**CAUTION when using Instant Pot® Brand Pressure Cooker**
USE CARE when cooking foods that expand (such as rice), as they can cause overfilling and clog steam release function
MAKE SURE the top fill line of the food in the stoneware is below the inner pot Max PC Fill line.
DO NOT use either the glass or plastic lid when cooking in the pot.
DO NOT stack stoneware dishes on top of each other in the pot.
DO NOT use the Sauté function.
DO NOT use the Air Fryer function.
Care
Cleaning carefully will help keep your stoneware in good condition.
| | | | | | |
| --- | --- | --- | --- | --- | --- |
| Can be cleaned: | Stoneware | Meal Mug™ | Serving Pieces | Plastic Lids | Glass Lids |
| Dishwasher | ✓ | ✓(Lid top rack) | ✓ | Top rack | ✓ |
| Hand washing | ✓ | ✓ | ✓ | ✓ | ✓ |
| Cleaning pads | Plastic or nylon only | Plastic or nylon only | Plastic or nylon only | No | Plastic or nylon only |
| Cleanser | Non-abrasive only | Non-abrasive only | Non-abrasive only | Dish soap only | Non-abrasive only |
Notes
Before first use, wash stoneware and lids thoroughly.
Allow items to cool before placing in sink or water.
When using a dishwasher, load items to avoid bumping against other items.
IN CASE OF PROBLEMS
Please do not return this item to the store.
We will work with you directly to resolve any problems, within the limits of the warranty for this product. Corelle Brands LLC is committed to quality products and superior customer service.
For more information, contact Corelle Brands Consumer Care .
CORNINGWARE is a registered trademark of Corning Incorporated, Corning, New York 14831, used under license by Corelle Brands LLC.
© 2020 Corelle Brands LLC, Rosemont, IL 60018
LIMITED ONE-YEAR WARRANTY
Corelle® Stoneware Dinnerware
Corelle Brands LLC, an Instant Brands company, promises to replace any CORELLE Stoneware dinnerware item, including plates, bowls and mugs, with a manufacturing defect within ONE year from date of purchase. If the exact item is not available, it will be replaced with a comparable item. The foregoing warranties only apply to products damaged during normal household use. These warranties do not cover damage resulting from misuse, negligence, accidental breakage or attempted repair. For these warranties to apply, the owner must follow the applicable Safety, Use and Care instructions. Incidental and consequential damages are expressly excluded from this Warranty. Some jurisdictions do not allow this exclusion or limitation, so the above may not apply to you. These warranties give you specific legal rights. You may also have other rights, which vary from jurisdiction to jurisdiction. This warranty is applicable to CORELLE products purchased through authorized dealers in each country, and void for CORELLE products purchased from other parties.
Should a warranty problem develop, contact Consumer Care at www.corelle.com. KEEP THE PRODUCT; you may be asked to return it.